Travel
Italy's government proposes bill to make surrogacy a 'universal crime'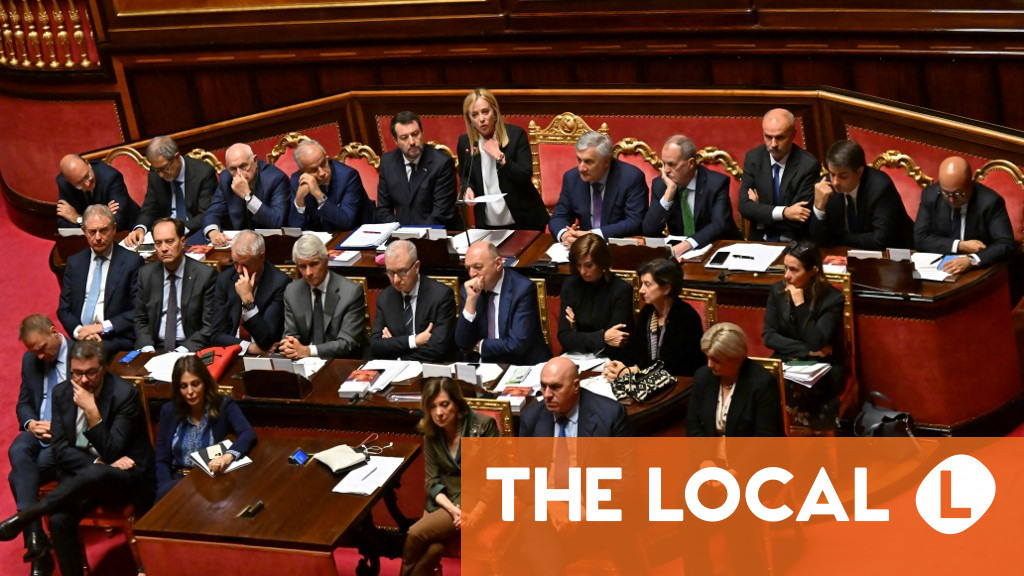 Italy's parliament is set to debate a bill that would expand criminal penalties for the use of surrogacy, in what opponents say is part of a broader attack on gay rights by the country's hard-right government.
Published: 22 March 2023 13:29 CET
Italy's parliament is set to debate a motion that would criminalise surrogacy abroad. Photo by Alberto PIZZOLI / AFP.
Prime Minister Giorgia Meloni is lead signatory on the new bill, which would make surrogacy – already a crime in Italy – a criminal act for Italians who make use of the practice anywhere in the world.
The motion combines previous draft laws from the ruling Brothers of Italy, Forza Italia and League parties, and will be debated in the lower house from Wednesday, according to news agency Ansa.
The move comes days after the government ordered the city of Milan to stop issuing birth certificates to the children of same-sex couples on the grounds that the practice violates Italian law.
READ ALSO: Milan stops recognising children born to same-sex couples
Prime Minister Giorgia Meloni has long been outspoken against surrogacy, which she has described as "a commodification of women's bodies and of human life."
In a heated parliamentary debate on the rights of same sex couples on Monday, her Brothers of Italy colleague Federico Mollicone, chair of the lower house's Culture Committee, said surrogacy was "more serious than paedophilia."
Similar comments were made in 2017 by a minister of the now-defunct New Centre Right party, who likened entering into a surrogacy arrangement to committing a sex crime.
READ ALSO: 'Surrogacy is like a sex crime': Italy minister
In early 2022, as leader of the Brothers of Italy party in opposition to Mario Draghi's coalition government, Meloni put forward the same motion to make surrogacy a "universal crime".
The text was adopted by the Justice Committee of the former legislature – a preliminary step before it can be debated in the lower house – last April, but did not go further at the time.
The crime of surrogacy in Italy is currently punishable with a prison sentence of over three years or a fine of between 600,000 and one million euros; penalties that the government is proposing to extend to all Italian citizens who engage in the practice, regardless of where it occurs.
Whether such a law would even be possible to pass or enforce is unclear, and legal experts have dismissed it as impractical. 
"There are no conditions that would justify an expansion of penal intervention of this type," Marco Pelissero, a professor of criminal law at the University of Turin, told L'Espresso newspaper.
The idea of a universal crime "does not even exist in the legal language," he said.
But the proposal has aroused fears that, if passed, the law could result in large numbers of same-sex parents whose children were born via surrogates being sent to prison.
"With this law we would be exposing families with young children to criminal law, quite simply criminalising procreative choices made abroad in countries where these practices are regulated," Angelo Schillaci, a professor of Comparative Public Law at La Sapienza University, told the news site Fanpage.
'We are aware of how hard this government is working to strip even the most basic rights from same-sex-parent families," Alessia Crocini, head of the Rainbow Families organisation, said last week when it was first announced that Milan had been banned from registering the children of gay couples.
The move resulted in large-scale protests across the city on Saturday, and Milan Mayor Beppe Sala has pledged to fight the change.
"It is an obvious step backwards from a political and social point of view," he said in a recent podcast interview.
On Tuesday, European Justice Commissioner Didier Reynders commented that European Union member states are required by EU law to recognise the children of same-sex couples.
"In line with the LGBTIQ equality strategy for 2020-2025, the Commission is in continuous dialogue with Member States regarding the implementation of the judgments of the Court of Justice of the European Union."
"This also includes the obligation for Member States to recognise" children "of same-sex parents, for the purpose of exercising the rights conferred by the EU", Reynders reportedly said in response to question about the developments in Milan.
Most Related Links :
planetnews Governmental News Finance News