Sports
NBA Conference finals: Jayson Tatum's Boston Celtics cruise past Miami Heat to extend Eastern Conference finals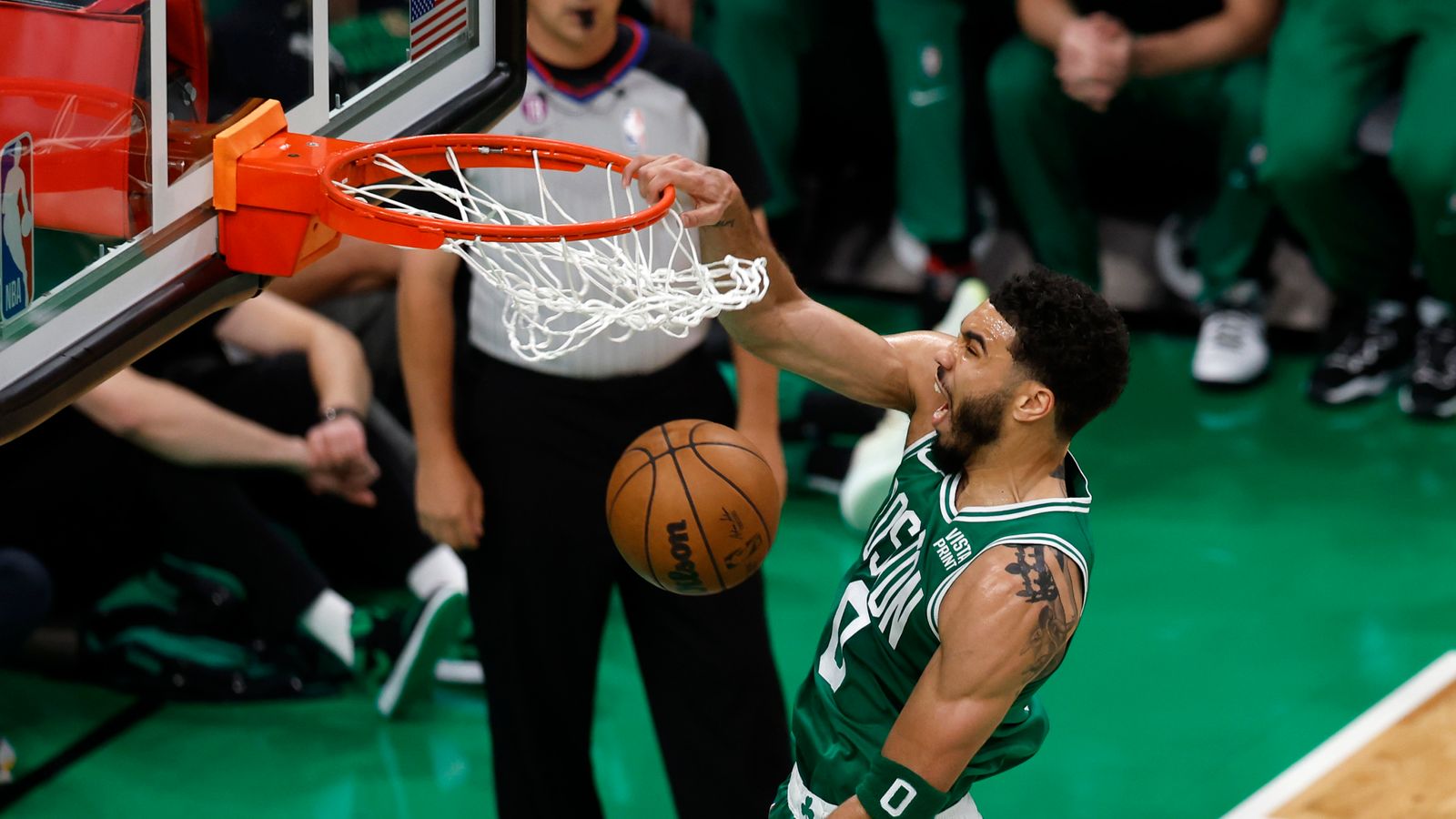 Derrick White had 24 points, including six 3-pointers, as the Boston Celtics dominated the Miami Heat 110-97 in Game 5 to extend the Eastern Conference finals.
Marcus Smart had 23 points and five steals, while Jayson Tatum and Jaylen Brown finished with 21 points apiece.
Joe Mazzulla's side are now two wins away from becoming the first team in NBA history to overcome a 3-0 deficit to win a playoff series.
"We've got to do whatever it takes to get a win," said White.
"It just says that our backs are against the wall and we're sticking together and we're competing at a high level to give ourselves a chance," Mazzulla added.
Game 6 is Saturday in Miami (1.30am Sunday morning UK time, live on Sky Sports) where the Heat will try again to become the second No 8 seed to reach the NBA Finals. They've already had two chances to do that, but their opponents have battled hard to turn the tide.
"We're always going to stay positive, knowing that we can and we will win the series," Miami's Jimmy Butler said.
"We just have to close it out at home."
"One game doesn't lead to the next game," Heat coach Erik Spoelstra chipped in. "It just doesn't matter. It's about collectively preparing and putting together a great game".
"We'll play much better on Saturday. That's all we just have to focus on right now."
Miami will need to be better than they were in a game in which they never led, had 26 turnovers, and their star player Butler had his lowest-scoring game of the series with 14 points.
The Celtics, however, thrived. They dove for loose balls, outfought Miami for rebounds and found each other for layups and dunks in transition as they built as much as a 20-point lead in the first half.
The Heat cut into it, but Boston kept knocking down three-pointers and stretched their advantage as far as 96-72 in the fourth quarter, before closing things up in the final stages of the game.
Duncan Robinson tried to inspire a comeback, leading the Heat with 18 points alongside Bam Adebayo's 16. But the Celtics superseded their efforts for the second game in a row.
"I don't want to say we're surprised by it, but they raised their level," Robinson admitted. "We've got to raise ours now as well."
All eyes now turn to the early hours of Sunday, where Butler and his team-mates will attempt to spoil the Celtics' attempts to inch their way towards history.
Watch it all unfold live on Sky Sports Arena and Sky Sports Main Event from 1.30am.
Most Related Links :Planet News||World News||Entertainment News||US News