Putin Ally Issues Stark Warning Over Possibility of Nuclear War in Europe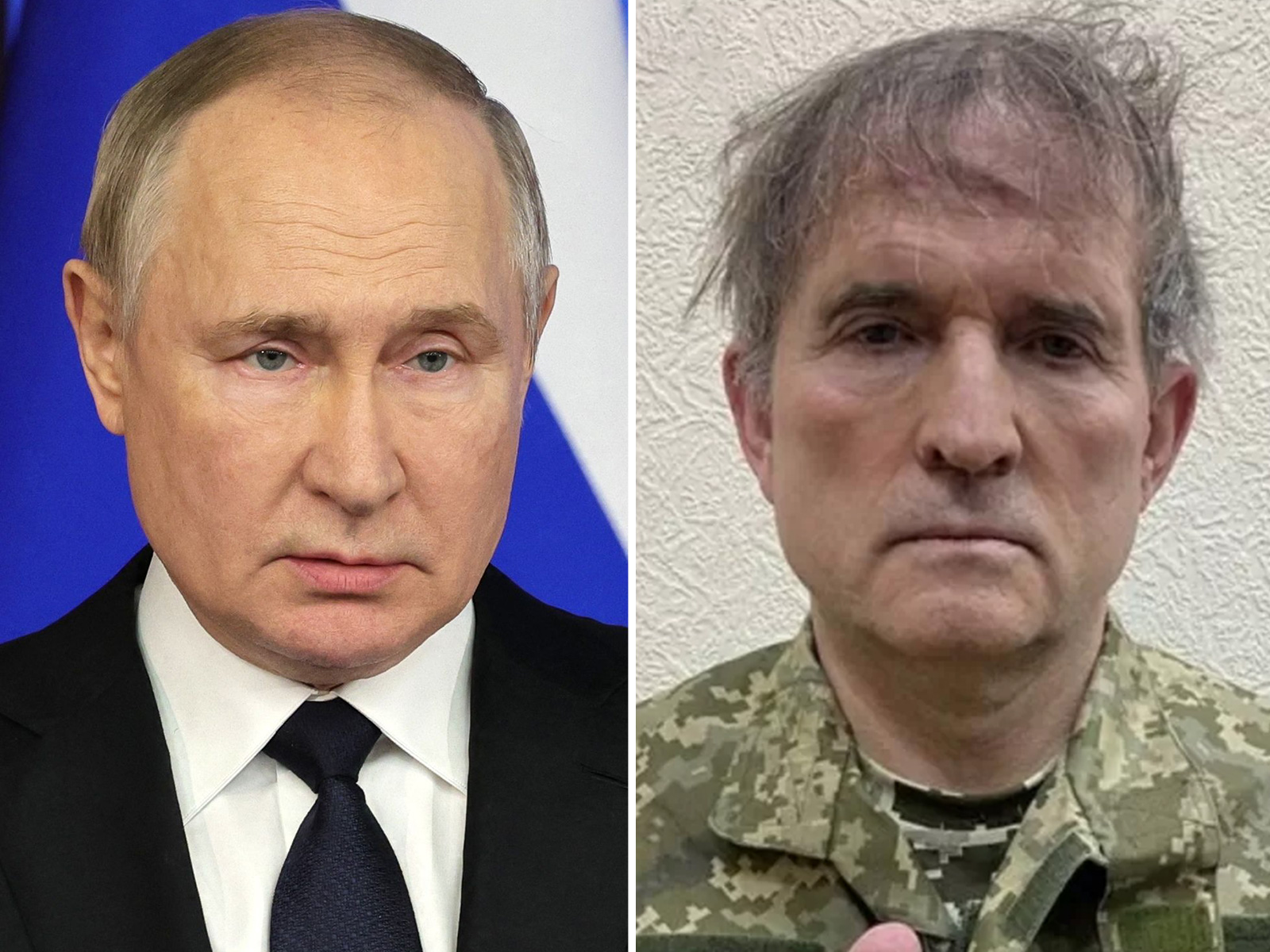 Viktor Medvedchuk, an ally of Russian President Vladimir Putin, has issued a stark warning over the possibility of a nuclear war breaking out in Europe.
Medvedchuk, a pro-Kremlin Ukrainian oligarch who was released by Kyiv in a prisoner swap with Russia in September 2022, made the remarks in a wide-rangingarticle for Izvestia, a daily broadsheet newspaper in Russia.
The 68-year-old has close ties with Putin, who is believed to be the godfather of his youngest daughter. Medvedchuk was the former leader of a pro-Russian opposition party in Ukraine, and was detained in April by Ukraine's state security service, or the SBU, after he fled house arrest while awaiting trial on treason charges. Kyiv has stripped him of his Ukrainian citizenship.
In the article, published on Monday, Medvedchuk began by saying that Putin's full-scale invasion of Ukraine, launched on February 24, 2022, was "not limited to Ukraine" and affected "many countries."
He suggested that Ukraine's European allies could, by supporting Kyiv, bring the conflict closer to home.
"It is no longer Europe that teaches Ukraine politics, but Ukraine teaches Europe how to achieve economic decline and poverty with the help of a policy of hatred and intransigence," said Medvedchuk. "And if Europe continues to continue this policy, it will be dragged into a war, possibly into a nuclear one."
Putin said in September 2022 that Russia was prepared to use nuclear weapons to defend its "territorial integrity." The topic is still regularly discussed on Russian state TV.
Medvedchuk said he sees only two ways out of the current war, which is now in its 11th month.
"And now there are only two ways out: to slide into a world war and a nuclear conflict, or to start the process of detente again, for which it is necessary to take into account the interests of all parties," he said. "But for this, it is necessary to recognize politically that Russia has interests, that they must be taken into account in the construction of a new detente."
"And most importantly, play honestly, do not deceive anyone, do not let in fog and do not try to make money on someone else's blood," Medvedchuk added. "But if the world political system is not capable of elementary decency, blinded by pride and its own mercantile interests, then even more difficult times await us."
According to Medvedchuk, the war could spread to Europe and other countries, or it will be "localized and resolved" if the West forces Ukrainian President Volodymyr Zelensky to comply to Russia's demands.
Zelensky put forward his 10-step "peace formula" during a virtual address to world leaders at the Group of 20 summit in Bali, Indonesia, in November.
The 10 steps he outlined are: radiation and nuclear safety; food security; energy security; release of all prisoners and deported persons; implementation of the UN Charter and restoration of Ukraine's territorial integrity and the world order; withdrawal of Russian troops and cessation of hostilities; restoration of justice; countering ecocide; preventing escalation; and confirmation of the end of the war.
Russia is demanding international recognition of its proclaimed annexation of four partially occupied territories in eastern Ukraine.
"How can it be resolved if the party of war reigns supreme in Ukraine, whipping up military hysteria, which has already gone beyond the borders of the country, and for some reason the West stubbornly calls it democracy?" Medvedchuk asked.
Newsweek has reached out to the foreign ministries of Ukraine and Russia for comment.
Do you have a tip on a world news story that Newsweek should be covering? Do you have a question about the Russia-Ukraine war? Let us know via [email protected]
Most Related Links :
planetnews Governmental News Finance News