4 Parenting Products I Wish I Hadn't Bothered Buying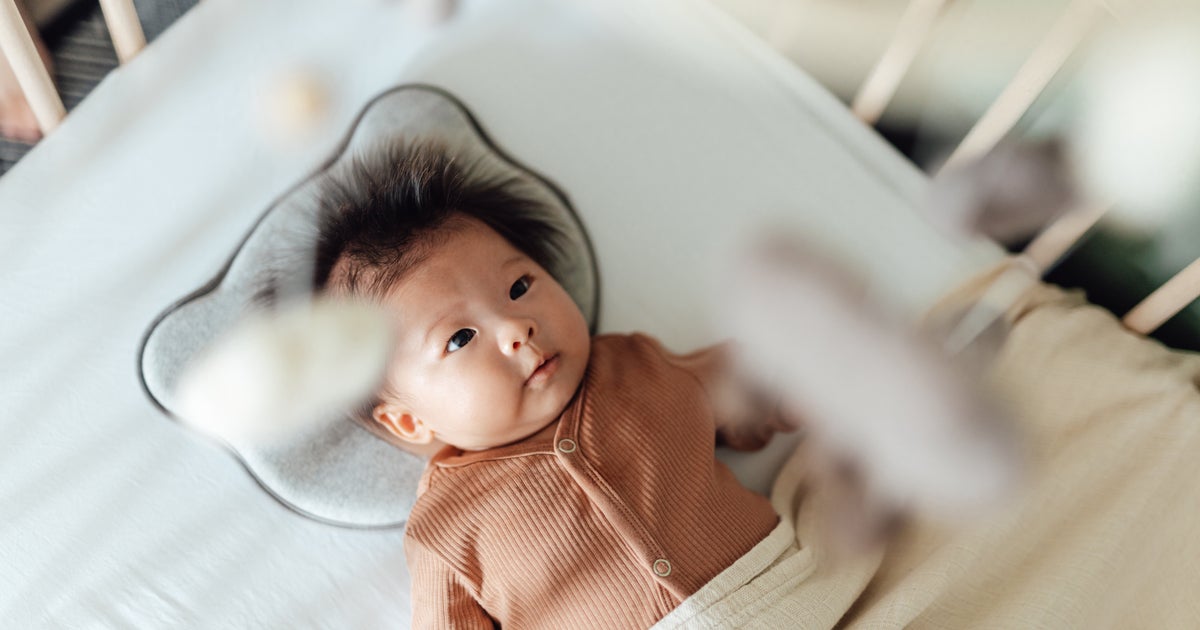 We hope you love the products we recommend! All of them were independently selected by our editors. Just so you know, HuffPost UK may collect a share of sales or other compensation from the links on this page if you decide to shop from them. Oh, and FYI — prices are accurate and items in stock as of time of publication.
When you're expecting your first child, it's perfectly understandable to want to be kitted out with everything you need to make their life – and therefore your life – more comfortable.
But it can mean we end up overdoing it as far as spending is involved. A study from Ergobaby UK found parents in the UK spend an average of £10,000 on baby preparation and first year of life costs.
A staggering 90% of parents surveyed admitted they'd overspent on baby goods, with an average £5,567 wasted in total.
From the pushchairs, car seats and cots, to clothes, baby monitors and nappies, bringing a child into the world doesn't come cheap. As a first-time mum, I definitely fell into the trap of buying things I didn't necessarily need when our daughter was born.
I thought they'd improve our lives – but honestly, they didn't. And I ended up wasting money in the process. So whether you're a parent-to-be who's currently kitting out your nursery, or a parent who's currently harbouring some new-baby-purchase-regret too, here are some of the things I wish I hadn't bothered buying – and what I wish I'd bought instead.
Regret #1: cot mobile
I don't know what possessed me to buy a mobile for our baby's cot. Maybe it was because it's one of the things you typically associate with a tiny tot's nursery, or maybe it's because I'd seen lots of pretty ones on Instagram.
Anyway, we bought one – it was wooden with cute little sea creatures on and probably cost us about £50 – and we barely used it. Our little one, who was about 2-3 months old when we got it (I can't quite remember because that period was a sleep-deprived blur), was absolutely delighted with the mobile.
But rather than soothing her, like I thought it would, it got her properly fired up. Every time she was placed in her cot, even if a little bit drowsy, she'd clock it and would ferociously kick her legs about like an Irish dancer (which is exactly what you want when you're desperately hoping for your child to drift off).
There wouldn't be a point where she'd get bored or tire of it – it was *the* most stimulating item in the world – so in the end I had to remove it from sight. I know, I'm the worst.
What I should've bought instead: blackout blinds
My biggest regret – and I still haven't bought them (what is actually wrong with me?) – is that I didn't get some blackout blinds fitted in our daughter's room.
I genuinely believe it would've saved me hours trying to get her to sleep on those long summer nights, in addition to getting her back down on those early mornings when it was light outside at 5am. It would've also done me a solid favour during those many daytime naps when I'd shut the curtains but the afternoon sun would be so strong that the room remained piercingly bright.
I know it would've made a difference because we've since been on holiday to Croatia and the hotel had amazing blackout curtains. And guess what? She slept until 9am some mornings.
Regret #2: bedside crib
Bedside cribs can be pretty expensive considering they don't really get used all that much – unless you've had a C-section and can benefit from the easy access, or are planning on having loads of babies (in which case, you do you!).
The bedside crib we bought was not as expensive as some of them can be as it was from Aldi, but it was still an expense that we could've saved ourselves because from the tender age of about three months old, our daughter decided she hated that crib with a passion and just wouldn't sleep in it.
From this point on it had two primary uses: somewhere to put her while I got dressed, and somewhere to store all the clean laundry when I brought it upstairs. Reflecting back, she would've happily slept in her moses basket for those first few months (especially as that's where she did most of her day-sleeping). And by about three/four months she ended up bed-sharing anyway.
What I should've bought instead: a cotbed
We did actually end up buying a cotbed – this one from Tutti Bambini (£259) – but not until our daughter was about seven months old. In hindsight, we could've just bought the cotbed a lot earlier, put it up in our room for a bit so she could sleep in it (when she outgrew the moses basket), and then moved it into her own room when she was ready.
If you want to try a bedside crib, I'd highly recommend renting one instead via Baboodle as you'll likely use it for a few months before moving onto something bigger – like a cot/cotbed. For an example of rental costs, you can rent the Chicco Next To Me bedside crib for £21 (per month) for six months, and then send it back without having to clutter your attic (or shed, garage, or wherever you keep all your baby's stuff).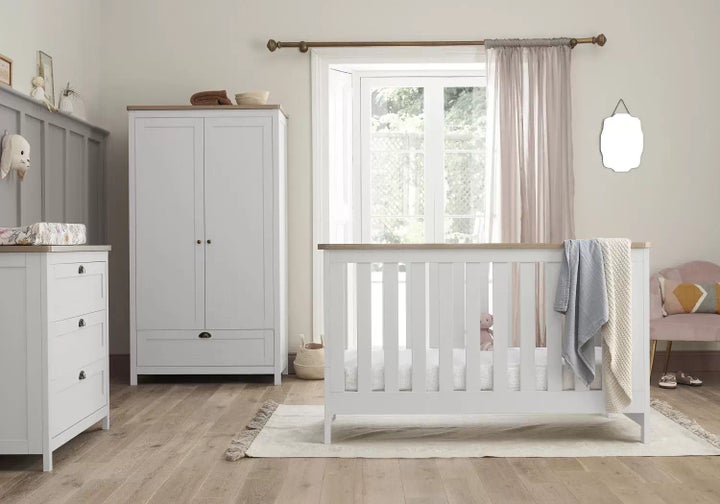 Regret #3: electric nasal aspirator
Apologies in advance because things are about to get a little bit gross. We bought an electric nasal aspirator snot sucker thinking it would be better than the manual ones and honestly, it wasn't all that.
We spent £30 on it and found it didn't really remove much mucus. Plus, the noise seemed to scare our daughter so she wasn't a fan at all.
What I should've bought instead: a manual nasal aspirator
Yes it's disgusting, but the manual one works so much better and was a great deal cheaper too. We got this Snufflebabe Nasal Aspirator (£8.99) and it was so useful when she was really congested with a bad cold.
I'll admit, it is super gross. As you suck the one end you can literally hear the snot gurgling as it shoots out of your baby's nose and into the device. But there's something oddly satisfying about it at the same time.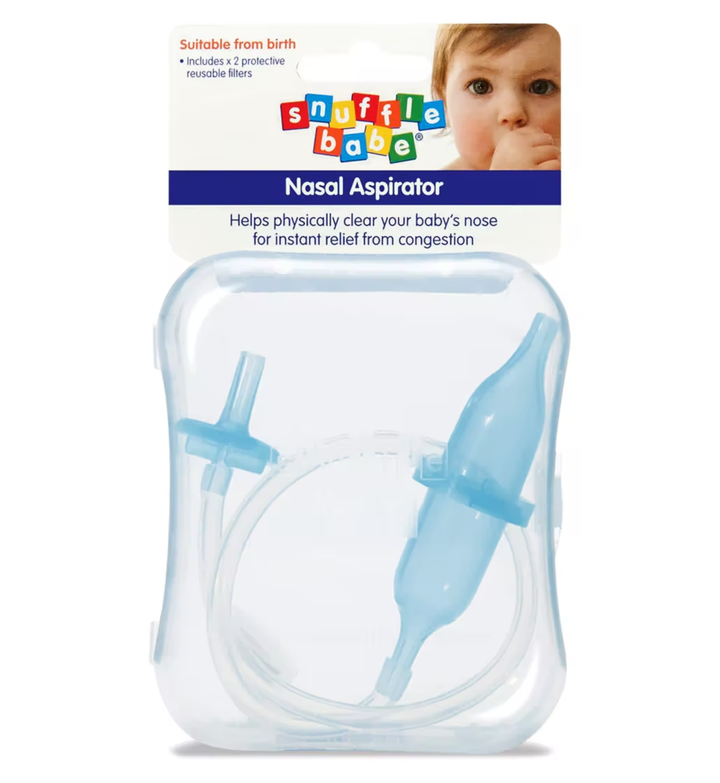 Regret #4: tummy time pillow
When my daughter was a month old, I remember reading and hearing so many bits of advice about the importance of tummy time that I became worried I hadn't been doing it enough. (If you're a parent-to-be currently thinking WTF is tummy time, it's basically when you place your baby on their stomach while they're awake to help them build up their muscles.)
A tummy time pillow was definitely a 'new parent fear' purchase that I didn't really need. I could've just rolled up a towel underneath her chest, placed some stimulating toys nearby, and it would've had a similar effect.
What I should've bought instead: a white noise machine
So there wasn't really anything tummy time-related that I wish I'd bought. But one game-changing new parent purchase was a white noise machine – and I'm sure many parents will agree.
I ended up buying a white noise machine but not until our little one was about four or five months old – which was a bad move considering she is such a light sleeper.
Up until that point we'd managed by tiptoeing around the place – and giving each other evils if we so much as breathed loudly. When she was about three months old we discovered Spotify's white noise playlist, which we played throughout the night on a speaker, and it was like magic. You could roll over in bed, the frame would creak, but she wouldn't wake up. Bliss.
A lot of friends had portable white noise machines that they took out and about with them, so in the end I caved and bought one – this Dreamegg (£39.99) to be precise – and it's one of the best purchases I made as a new parent. Great for pushchair naps, great for daytime naps so you can crack on with jobs downstairs, great for nighttime sleeps. I love it.
It also has a little nightlight built into it and 10 other background noises like shushing, a vacuum cleaner and running water if you're wanting to switch things up. It's so great we still use it now.
Did you buy something for your new baby that, in hindsight, you definitely didn't need to? Join the conversation by tweeting us @HPUKParents.
Most Related Links :
planetnews Governmental News Finance News