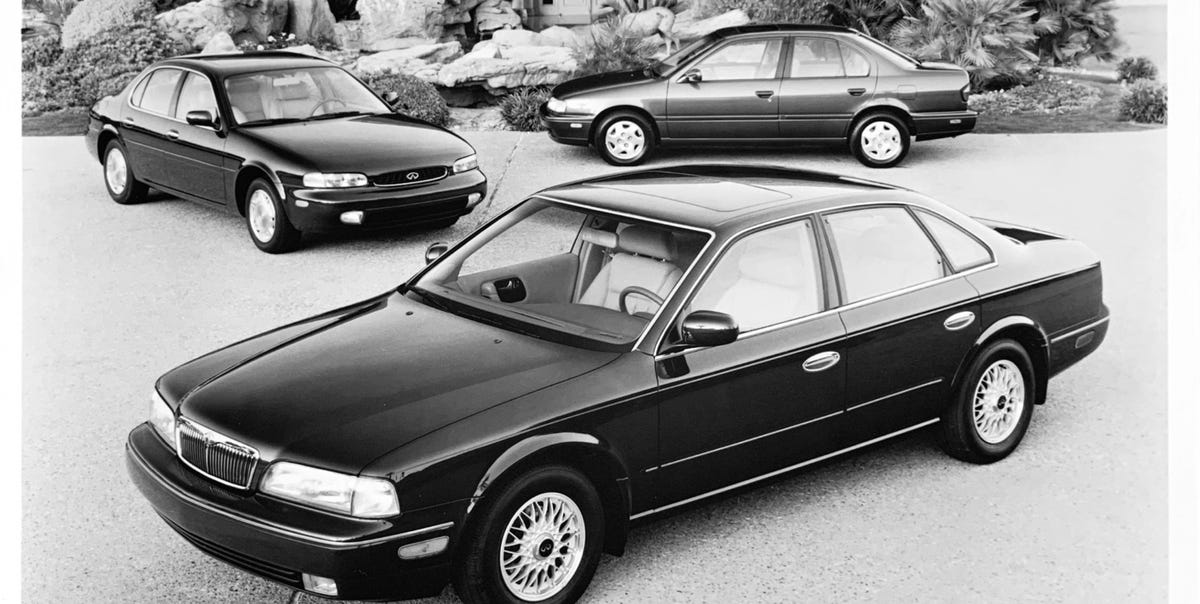 From the April 2023 issue of Car and Driver.
Dear Mr. Kargar,
Infiniti's first car made such an indelible mark on me that I bought one new. The original Q45 had a unique belt-buckle front emblem, a sculpted interior with awesome flowing surfaces, and a solid-metal ignition key that felt heavy in the proud owner's pocket. From there, the brand's career ladder soared, with the remarkably cool G35, M45, and FX45, but other efforts, including the I30 and QX4, turned out to be underdeveloped and overstyled Nissan clones.
Today's lineup is a mix of the aging Q50 sedan, a couple of unremarkable compact SUVs in the QX50 and QX55, the good but not class-leading QX60, and the luxe but pricey body-on-frame QX80. The transition to EVs is the perfect opportunity to remaster the model mix. Infiniti needs to capitalize on the interest in luxury crossovers by offering slick, beautiful alternatives that compete on price without compromising the premium touch.
• Start by turning the confirmed U.S.-built 2025 all-electric sports sedan inspired by the Qs Inspiration into a more buyer-friendly high-riding form that could challenge the Mercedes EQC, due out around the same time.
• Proposal number two is riskier but potentially more rewarding. No manufacturer so far has conquered the American and Chinese markets with high tech in a small package. Could Infiniti use the Ariya platform and be the first to manage a cute zero-emission city cruiser that wins over the big-SUV and big-sedan audiences of its market?
• SUVs are the heart of the lineup, and here Infiniti should challenge BMW. It seems obvious that a new lineup would be electrified. Make sure that when the QXE—or however they end up designated—series comes out, the QXE50 slots in above an electric X3 but costs less, the QXE70 eclipses the future electric X5 at a discount, and the QXE90 has a clear visual and functional edge over something like an X7 EV. In short, Infiniti must compete with BMW yet remain notably more affordable to encourage the buyer to take a risk on the brand.
The pending powerplant paradigm shift looks like a minefield from a distance, but there are brand-shaping opportunities waiting to be harvested. Oh, one more thing: When you're signing off on the new Infiniti logo, take a deep look again at that beautifully crafted belt-buckle emblem that adorned the front end of the original Q45.
Contributing Editor
Although I was born the only son of an ornithologist and a postal clerk, it was clear from the beginning that birdwatching and stamp collecting were not my thing. Had I known that God wanted me to grow to 6'8″, I also would have ruled out anything to do with cars, which are to blame for a couple of slipped discs, a torn ligament, and that stupid stooped posture behind the wheel. While working as a keeper in the Aberdeen Zoo, smuggling cheap cigarettes from Yugoslavia to Germany, and an embarrassing interlude with an amateur drama group also failed to yield fulfillment, driving and writing about cars became a much better option. And it still is now, many years later, as I approach my 70th birthday. I love every aspect of my job except long-haul travel on lousy airlines, and I hope it shows.
Most Related Links :
planetnews Governmental News Finance News